Page 10 - Year in Review 2019-2020 - Mercy Foundation North
P. 10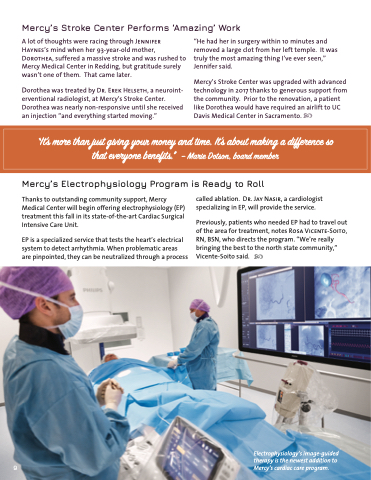 Mercy's Stroke Center Performs 'Amazing' Work
A lot of thoughts were racing through Jennifer Haynes's mind when her 93-year-old mother, Dorothea, suffered a massive stroke and was rushed to Mercy Medical Center in Redding, but gratitude surely wasn't one of them. That came later.
Dorothea was treated by Dr. Erek Helseth, a neuroint- erventional radiologist, at Mercy's Stroke Center. Dorothea was nearly non-responsive until she received an injection "and everything started moving."
"He had her in surgery within 10 minutes and removed a large clot from her left temple. It was truly the most amazing thing I've ever seen," Jennifer said.
Mercy's Stroke Center was upgraded with advanced technology in 2017 thanks to generous support from the community. Prior to the renovation, a patient like Dorothea would have required an airlift to UC Davis Medical Center in Sacramento.
  "It's more than just giving your money and time. It's about making a difference so that everyone benefits." – Marie Dotson, board member
Mercy's Electrophysiology Program is Ready to Roll
Thanks to outstanding community support, Mercy Medical Center will begin offering electrophysiology (EP) treatment this fall in its state-of-the-art Cardiac Surgical Intensive Care Unit.
EP is a specialized service that tests the heart's electrical system to detect arrhythmia. When problematic areas are pinpointed, they can be neutralized through a process
called ablation. Dr. Jay Nasir, a cardiologist specializing in EP, will provide the service.
Previously, patients who needed EP had to travel out of the area for treatment, notes Rosa Vicente-Soito, RN, BSN, who directs the program. "We're really bringing the best to the north state community," Vicente-Soito said. 
 9
Electrophysiology's image-guided therapy is the newest addition to Mercy's cardiac care program.