Page 8 - Year in Review 2019-2020 - Mercy Foundation North
P. 8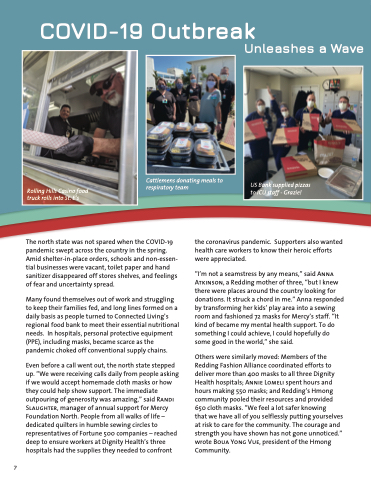 COVID-19 Outbreak
Unleashes a Wave
Cattlemens donating meals to respiratory team
 Rolling Hills Casino food truck rolls into St. E's
  US Bank supplied pizzas to ICU staff - Grazie!
7
The north state was not spared when the COVID-19 pandemic swept across the country in the spring. Amid shelter-in-place orders, schools and non-essen- tial businesses were vacant, toilet paper and hand sanitizer disappeared off stores shelves, and feelings of fear and uncertainty spread.
Many found themselves out of work and struggling to keep their families fed, and long lines formed on a daily basis as people turned to Connected Living's regional food bank to meet their essential nutritional needs. In hospitals, personal protective equipment (PPE), including masks, became scarce as the pandemic choked off conventional supply chains.
Even before a call went out, the north state stepped up. "We were receiving calls daily from people asking if we would accept homemade cloth masks or how they could help show support. The immediate outpouring of generosity was amazing," said Randi Slaughter, manager of annual support for Mercy Foundation North. People from all walks of life – dedicated quilters in humble sewing circles to representatives of Fortune 500 companies – reached deep to ensure workers at Dignity Health's three hospitals had the supplies they needed to confront
the coronavirus pandemic. Supporters also wanted health care workers to know their heroic efforts were appreciated.
"I'm not a seamstress by any means," said Anna Atkinson, a Redding mother of three, "but I knew there were places around the country looking for donations. It struck a chord in me." Anna responded by transforming her kids' play area into a sewing room and fashioned 72 masks for Mercy's staff. "It kind of became my mental health support. To do something I could achieve, I could hopefully do some good in the world," she said.
Others were similarly moved: Members of the Redding Fashion Alliance coordinated efforts to deliver more than 400 masks to all three Dignity Health hospitals; Annie Lomeli spent hours and hours making 550 masks; and Redding's Hmong community pooled their resources and provided 650 cloth masks. "We feel a lot safer knowing
that we have all of you selflessly putting yourselves at risk to care for the community. The courage and strength you have shown has not gone unnoticed." wrote Boua Yong Vue, president of the Hmong Community.